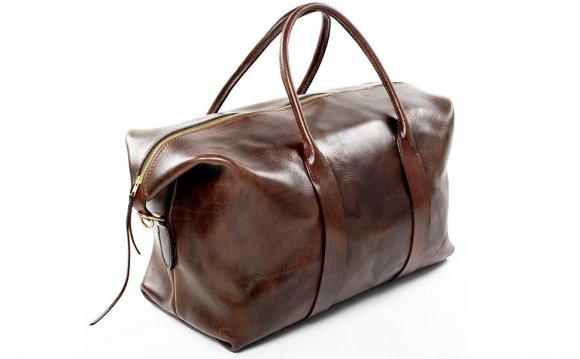 With our increasingly mobile way of life, we're often constantly in transit, whether for business or personal travel. This necessitates reliable duffle bags as we drive or navigate airports, trains, and buses and subway stations along the way. The following are characteristics of first-rate leather duffle bags for a variety of uses:
High-quality leather
A top-notch bag is constructed of fine, Italian handmade leather. At I Medici, an example of this is our Italian leather utility duffle bags the Borsone Classico Leather Luggage bag. It features quality leather manufactured (as all of our products are) at our factories located in Florence, Italy. The Borsone features a fabric lining, one open pocket, and large pegs at the base.
Versatile Straps
For ease of transport, the best leather duffle bags have comfortable adjustable straps. This allows for carrying the duffle bag in a position that is the most comfortable. Without unnecessary weight, a long cushioned adjustable strap facilitates carrying the bag on your shoulder. In addition, a smaller hand strap permits comfortable carrying in any situation n.
Spacious interior
A spacious interior is necessary when it comes to leather duffle bags because of the array of activities these bags are used for. Consider that duffle bags are used for long air flights, getaway weekends, camping, school sports and many other activities. A roomy interior means it's easy to take along all the essential equipment and accessories needed when traveling.
Strong side compartments
Strong side compartments permit the storage of shoes and toiletries. Therefore, you have ample storage compartments while keeping these items separate from the main interior of the duffle bag.
Proper Size
Good leather duffle bags are properly sized to accommodate diverse travel and storage needs. At I Medici we offer our Borsone Pak-n-Stak leather luggage duffle bag which is 24.4 x 12.2 x 10.2 inches (L x H x W). Furthermore, our Borsone Classico Leather Luggage (IM9100) measures 25 x 17 x 9.5 inches.
In addition, our Borsone Caraibi I Medici Travel Bag (IM9175) measures 16.1 x 15.6 x 9.4 inches.
Strong Gussets, Zippers, and Hardware
Premium leather duffle bags include models that have a robust single gusset for added strength as well as expansion of the interior. Moreover, the best duffle bags have an internal large zipper pocket and a zip top closure. Some also have a zippered pocket under the flap. For an elegant look these bags also feature durable brushed brass hardware.>/p>
Source: imedicileather.com
Share this Post