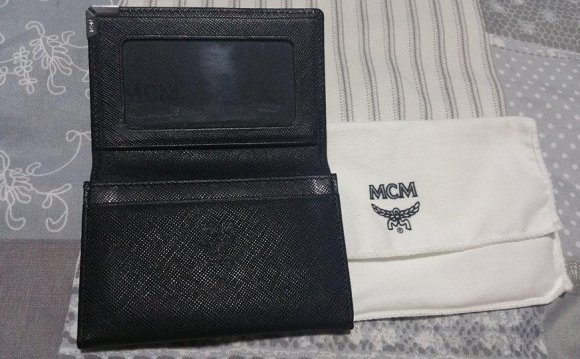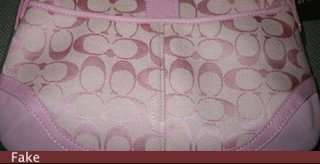 Tips to determining authenticity for a Signature Coach Handbag
If you're looking for a new COACH handbag then shop online at COACH.com or online at MACYS.com.
If you're looking for a deal purchase a COACH bag from a reseller on ebay, it's best to educate yourself!
The simplest way in determining COACH authenticity would be to examine the layout of the signature C's. The C's should be lined up perfectly to the center. However, it is not uncommon for the mini-signature C collections to be off by tiny bit only on the sides. So don't panic. It's best to use your own judgement, if it seems like the signature is too off center then it's best to stay away from that handbag,
Difference between real and fake COACH Handbags
When talking about the signature COACH pattern, the style will always be the two C's next to each other in doubles, never in a single row of C's
COACH occasionally comes out with some interesting new styles, however if the overall figure of the bag appears to not resemble one that coach would produce, then chances are it's a replica. ie: COACH never made a handbag that looks like the Fendi Spy Bag!
Another dead giveaway when it comes to the pattern is if it's something completely off beat. Like a different letter, such as an O or a G – Obvious fake.
Dust bags have changed over the years. They have used white dustbags in recent years. Back when I originally wrote this blog post in 2007, COACH dustbags were commonly dark chocolate brown with a red drawstring. In the bottom right the words in all caps "COACH EST.1941″ written in white. It's just important to know that Coach does not use cheap material to make these. There are many replica dust bags floating around on the Internet.
Up until 2002 about 75% of coach handbags were manufactured in the US. Now, most are assembled in China.
The interior serial number should start with "No", the abbreviation for number, and have 4 numbers after the dash, not 3.
The writing should be neat on the authenticity tag, not crookedly stamped on. Also the paragraph above the serial number should be in all caps, and in English.
Make sure that the authenticity number matches up with the style of the COACH bag that you are interested in purchasing.
There also needs to be a serial number.
Coach commonly uses logo tags that are attached by a beaded chain. Usually, the tag should match the trim of the bag. The words "COACH" should be raised, not imprinted.
Some styles to have metal tags. Do your research to make sure that the tag goes with the bag you are getting. It is not uncommon for counterfeiters to mass-produce these metal tags; it's the cheaper more profitable way. Tags are never made out of hard plastic.
Other minor flaws
Coach uses ykk zippers. Be sure to check if the markings are on the zippers.
The seams of the bag and interior authenticity tag should not be glued on but rather neatly stitched on. COACH takes pride in experienced craftsmanship on each and every piece. If the stitching is of poor quality, by being raised in some areas, or if you see the string knot then it is a replica.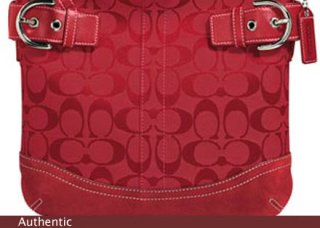 The bag should look neat and sturdy, not slouching to one side or lopsided. This is caused by either uneven lousy stitching or not quality material that's to thin. COACH uses leather or suede trim, not pleather or shiny plastic.
It's easier to tell the difference between leather and plastic in person. You can usually tell by the smell, however, there are handbags out there that are made of plastic and sprayed with leather perfume, which smells more like a new car than a purse. If you are looking at a picture, you can generally tell if it looks too shiny or cheap looking.
Main point
COACH in my opinion degrades their image by having discount stores. However, this could be a reason why there are less fakes online. More people are going to the outlet stores or purchasing them on sale, only to turn around and resell.
I also must applaud the US government for a attempting to end the importation of counterfeit items coming into the US. It is a big goal to accomplish, considering the fact that the law making it illegal to sell counterfeit items was recently passed in the mid 1990′s. The government at this time does what it can to catch these criminals. However, lets just say I won't be too impressed until it's illegal for vendors to sell them on the streets! It's not only the governments lack to enforce which keeps this multi-million dollar industry in business, but you as a consumer must not purchase these items. Most people do not know the trail of money when purchasing a counterfeit item.
You ask your self how they could get away with this? They import them without the fake designer labels. Then upon purchase by an unsuspecting person, the vendor will glue on a cheap label.
There is such thing as a good deal. However, if someone claims to have a handbag for sale that isn't even in stores yet, you should pass. If purchasing from an unauthorized dealer or from an auction site, the only understandable good deal would be if it were a bag from a past season.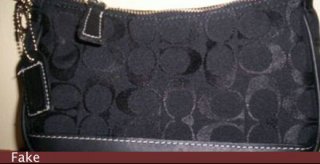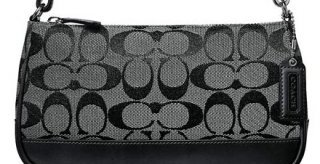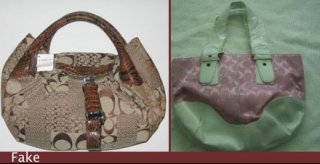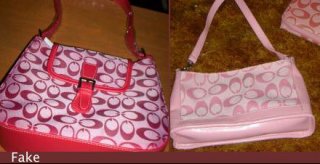 Source: www.bagbliss.com
Share this Post