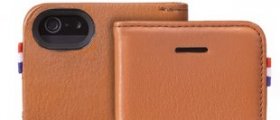 About Wallet Phone Case
The Decoded iPhone 5 Wallet Case is handmade with the finest materials and premium full-grain Aniline leather. The Wallet Phone Case has the sleek and versatile look it deserves. The case closes your smartphone with the magnetic enclosure and enriches it with handcrafted premium full-grain Aniline leather. The Decoded Wallet Case for iPhone 5 incorporates several wanted functonalities into a complete all-in-one case solution. It gives you easy access to your business cards and camera while your iPhone is still well protected. The Dutch flag represents the Dutch Design. The Wallet is the perfect combination between fashion and functionality.
Details
Made of premium full-grain Aniline leather
Full body protection
Micro-fiber inlay for screen protection
Cardslot for your business cards and creditcards
Magnetic enclosure to keep your wallet closed
Available in black, brown, blue and white
Quality of Decoded
At Decoded, it is our passion and philosophy that great design needs no compromise. As a result, your Wallet Case looks nothing short of spectacular. Nifty slots and cutouts you are given access to all of the iPhone's vital functions instantly.
Source: decodedbags.com
Share this Post