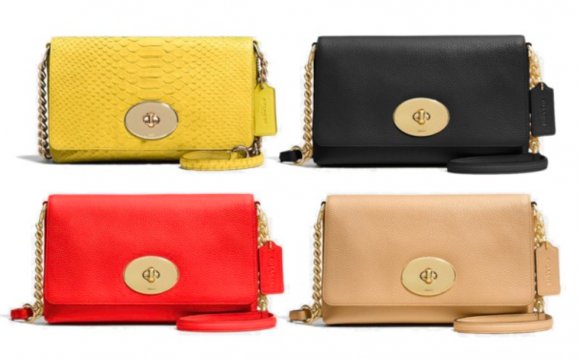 Because Coach has such a huge handbag lineup that spans from simple and traditional to intricately detailed and fashion-forward, sometimes we miss the launch of a new bag that wasn't featured on the brand's runways. Thankfully we caught the Coach Drifter Bag as soon as it hit store shelves, and now we have all the details on what might be your new fall bag.
The Drifter falls somewhere in the middle of Coach's design continuum: it's not as detailed as the Coach 1941 runway bags, but it has higher-end finishes than the brand's basics. Fans of Coach will note the top dowel and central turnlock closure, both of which are modified takes on longstanding brand signatures that figure prominently on both the smaller top handle version of this bag and the larger carryall.
The top handle version features (you guessed it!) a single top handle and two main interior compartments, while the carryall has two top handles and a single, larger interior compartment. Both have an optional shoulder strap that's long enough for crossbody wear, and both are lined in leather, which is a great detail for bags at this price point.
Both versions of the Drifter Bag are very functional, but the top handle version strikes me more as a weekend bag, while the carryall is definitely a carry-to-the-office workhorse for anyone who needs to bring a lot of things with them every day. Below, check out all the versions currently available. You can shop the full range via Coach.com.
Source: www.purseblog.com
Share this Post