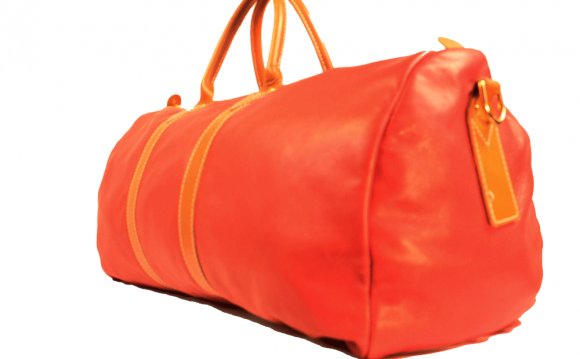 Floto leather duffle and travel bags for men and women are handcrafted in Italy using natural calfskin leather and materials.
At Floto, we work with different kinds of leather to make our travel and duffle bag collections. Every duffel bag style is made with 100% genuine leather. We prefer vegetable tanned leather because it is strong, flexible, and has deep, rich color tones without any harsh chemicals. Our four main travel bag collections are – Classic, Roma, Floto, and Parma.
Our Classic Collection leather bags are made from full grain vegetable tanned calfskin leather. Each Classic Collection leather bag has a polished, semi-gloss finish that gives it durability and helps prevent stains. The classic Vecchio Brown leather has been the workhorse of our travel bags since 2003 and looks better with age. Classic bags soften, patina and can take a beating.
The Roma Collection is made with oil finished vegetable calfskin leather that has been used to make travel bags in Italy for centuries. The Saddle Brown leather has rich color tones with a matte (oil) finish that gives it an old school look. Scratches easily recover by rubbing the leather and over time Roma leather travel bags soften and develop a beautiful patina.
The Floto Collection is made with hand tanned leather that is supple and easy to polish. Only vegetable extracts and natural oils were used to hand paint and tan the full grain leather hides. The leather is hand ironed to give it a semi-gloss finish. The result is a supple leather that over time will soften with perfect patina.
The Parma Collection is made with vegetable leather that has been lightly tanned with chestnut extracts and natural oils. We carefully select the Parma skins with the least amount of blemishes to make the Parma Collection. We buy only the shoulder sections because this part of the hide is soft and smooth.
The Siena Collection is made from vegetable tanned full grain Italian "shoulder" calfskin and finished with extra large brass zippers. We use only the shoulder section of the leather hide for Siena Collection because it is the smoothest and toughest part. Over time Siena bags will soften and develop a beautiful patina.
The Roma, Floto, and Parma collection leathers are hand painted and tanned in Santa Croce, Italy using only vegetable extracts and natural oils. We call this Etruscan style tanning because the process dates back to the Etruscan period in Tuscany. No matter what collection or duffle bag you choose, over time the Floto leather will soften, patina, and develop a warm, silky touch.
Every Floto travel and duffle bag is finished off with our 8 oz cotton duck canvas lining that is made in South Carolina. The combination of beautiful Italian calfskin leather, Italian craftsmanship, and strong American made lining makes an original Floto leather duffle bag.
Source: flotoimports.com
Share this Post