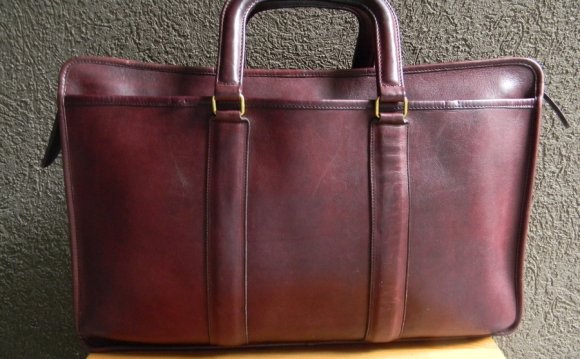 Material: Full Grain Leather
Hardware: Heavy Duty Metal Parts (Not breakable)
Pockets: Two exterior and two big Interior
Shoulder Strap: Adjustable
Pattern Type: Solid
Color: Dark Brown
Dimensions: 16.8"L x 8.5"W x 12"H
Weight: 5 lb
Carry Handle and Flap Cover with Brass Buckles
Converts to backpack
Natural Oils were used, shade my vary
The Selvaggio Briefcase is a great choice for business or leisurely carry. It is gender friendly, and has a vintage appeal. This is not your ordinary briefcase. It's constructed with full grain leather, providing a great look and feel. This bag possesses a lot of rugged characteristics, which is highly sought after. The leather has not been sanded down, so all the natural markings show through. This type of leather is made for longevity and durability.
This full grain leather briefcase is a must-have accessory for all men and women who live a dynamic life, juggling with jobs, personal life, travel, and fun. You can start your morning by packing everything you need for work in this business briefcase and end your evening at the gym or downtown having dinner with friends and looking casually stylish – with just a few minor adjustments, the briefcase can turn into a full grain leather handbag.
Not only is the leather the top of the line, the hardware is also made to strengthen, and provide quality to the look and functionality of the bag. There are three buckled straps, which close the top flap and add to the overall vintage look. You will notice some ring rivets on the back of the bag. These are used to convert the bag to a backpack. There is one adjustable and detachable shoulder strap that can be transformed into two backpack straps for carrying. Also, there is a convenient carry handle on the top of the bag, which is great for grab and go purposes.
This is why this full grain leather briefcase is the perfect choice if you commute, go to school, or travel for business or pleasure. It is large enough to host your laptop and work papers without looking massive, but can also carry you some after-work gym equipment or personal belongings. Given the high quality of the leather and the versatility of this dark brown leather briefcase you can use it for your freelance activities and projects, college days and unexpected departures for work purposes.
Design Details
There are two exterior pockets located on each side of the bag that is great for holding cell phones or other small items. Inside you will find two sections. The front section has two large pockets and a medium sized open compartment that can accommodate books, folders, or iPad. The other compartment is larger in size, and can comfortably fit a laptop. The lining is made of suede, which adds to the quality of the Selvaggio Briefcase. The great thing about this bag is that it is large enough to carry everything you need without feeling bulky.
The beauty of this bag is that it works incredibly well with office attire and casual outfits. If you want to achieve a more professional, formal look, use the full grain leather briefcase as a business briefcase – carried as a handbag or a messenger bag. For a more casual look, quickly convert the bag into a backpack and enjoy the freedom of movement and the versatility it offers to both men and women of all ages.
Source: www.serbags.com
Share this Post