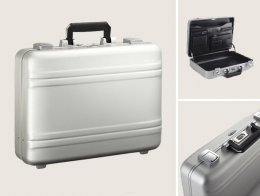 A man has to be very careful about the personality he crafts to show the world, and nothing defines a regal man's persona more than a sleek briefcase. To transform your travels into masculine elegance, simply pick one of the luxuriously grand vessels below!
When a gentleman is on the go, his whole world has to be packed into one streamlined apparatus. With this in mind, the briefcase symbolizes maleness in its most unrepentantly straightforward mode. Think about it: Infinite possibilities are compacted into one sleek unit that constantly reinvents itself to suit whatever purposes may arise. Which one are we talking about, men or briefcases? Now you see what I mean…
For businessmen, the briefcase is more than an accessory; it's a complete identity. As such, aesthetics cannot be the only aspect given full notice. In fact, functionality is way more important than appearances, unless you aren't actually planning to use the designer luggage bag. If your briefcase is just for show, then get your pretentious hipster sensibilities out of here and leave the style conversation to real men!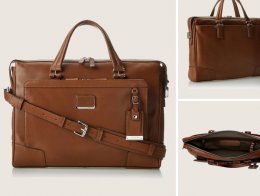 When reviewing these top 15 best briefcases for men, I weighed a variety of factors including materials, durability, reliability, portability and, of course, sex appeal. With any of the following selections, you will suddenly start flaunting high status and higher aspirations. Bon voyage!
Zero Halliburton Premier 4 Inch Aluminum Breifcase
Safe and stylish come easy when you've been crafting briefcases since 1938. One look at the Zero Halliburton's Premier briefcase and you'll be drawn to the beautiful anodized aluminum body. To match the highly attractive eye appeal, this briefcase also delivers big in terms of high security. For keeping your personal belongings safe, it features a three-digital combination look, Stayarm hinges and a thick draw-bolt. Not to mention, there's also a textured grip handle for any rugged adventure on the go.
On the inside you'll find abundant interior pockets for keeping organized and a smooth, refined leather lining. This briefcase measures 13 inches high by 17 and half inches wide, making it suitable for most electronics.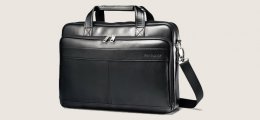 Tumi Astor Regis Slim Zip Top Leather Briefcase
Tumi has quite literally gone over the top when it comes to this bag, but that's not a bad thing at all! In fact, you'll be pleased to know the level of craftsmanship is exceedingly professional and well planned out.
At first glance you'll notice the beautiful 100% leather exterior with multiple zip pockets. There's a zip pocket location on both the front and rear in addition to a double zip closure. On the interior you'll find great small touches for staying organized like the pen loops and key ring. In terms of size, you'll be able to accommodate most 15″ laptops effortlessly in addition to all of your other accessories such as chargers, headphones and more. To stay the least, this 11.75″ by 16″ brief is quite generous when it comes to space.
To make any gentleman's life a little bit easier, the Astor Regis Slim also features an adjustable 18.5″ shoulder strap and ID tag. If you prefer to carry by the handle, you'll be happy to know the strap is easily removable.
Samsonite Luggage Leather Slim Briefcase
For the true professional businessman who wants a streamlined modern look, this Samsonite Luggage briefcase delivers big. The sleek black 100% genuine leather exterior provides a serious, yet elegant appearance that means business. A front pocket organizer offers quick accesses for getting any job done, and will accommodate a laptop charger with ease.
Gentlemen who travel will also be pleased to know this briefcase fits comfortable over most luggage handles at the airport. However, some men may find this brief to be heavier than most. If you are willing to carry a little more weight around, you'll enjoy it's long term durability for years to come.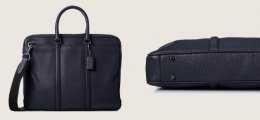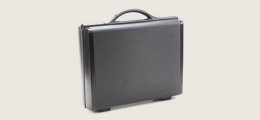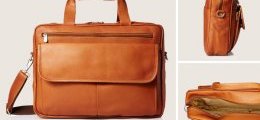 Source: nextluxury.com
Share this Post