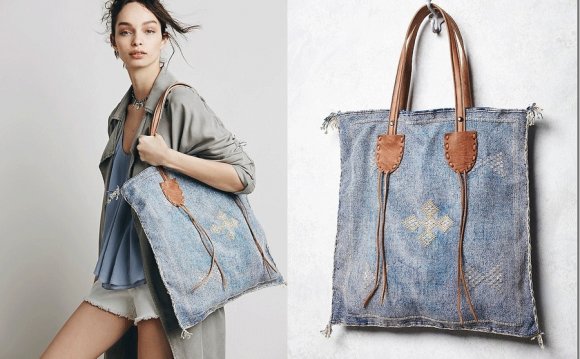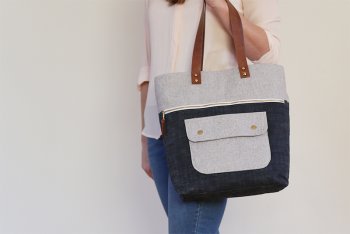 Anna Graham from Noodlehead is the designer behind our Round Three Challenge in the Super Online Sewing Match II, the pretty Caravan Tote! Anna has a great selection of sophisticated bag patterns in her shop. She is also author of the new Handmade Style: 23 Must-Have Basics to Stitch, Use, and Wear with Lucky Spool Media, and just released the Rain Walk fabric collection in quilting cottons and canvas for Cloud9 Fabrics.
Anna has an intuition for just the right bag hardware picks and placement in her bag designs. She shows you how easy it is to install rivets so you can use them in your next bag! Rivets are a nice way to "up your game" as you sew accessories, and you can use relatively inexpensive tools to get the job done.
Hardware is one of my most favorite parts of bag making. It adds a beautiful detail with professional looking results. I think hardware can be very intimidating to learn at first, but with a little bit of information and how-to, anyone can do it. Many times installing hardware is one of the last steps when making a bag, especially when it comes to attaching handles with rivets. You've working really hard to make an awesome bag, and then it's rivet and handle time! I've been there and I know it feels scary. Hopefully with this tutorial and my tips, you'll be setting rivets in no time flat, and with confidence!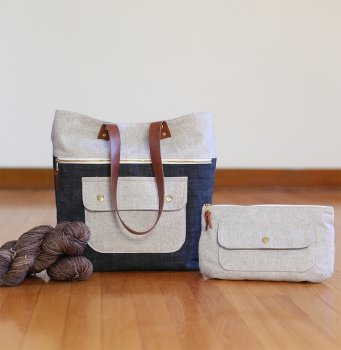 Test rivets and materials, water-soluble pen, double cap rivet, finished strap, rivet setting tool or rivet press.
Materials:
Rivets
Awl/leather punch/rivet press
Rivet setting tool or rivet press that fits the size rivets you are installing
Soft hammer/mallot
Finished handles (fabric or leather)
A bag to attach them to!
Rivet setting tool, anvil and strike post.
Rivet cap on top, rivet with post.
Tips to Get Started:
Rivet size: There are many types and sizes of rivets! Probably more than you've ever thought possible. Buying the right size and type for your project is cruicial in having success with your finished product. For most bags I recommend an 8 mm or 9 mm double cap rivet with a post length of 6 mm. Don't forget about finding the correct post length! It helps determine how many layers your rivet will actually hold together. If you have too long of a post length your rivet won't sit snugly on your handles, but a post length that is too short will leave you with a rivet that won't be long enough! Take time when you're shopping. If the item description doesn't list the information you need, contact the shop owner.
Practice: No one ever has set out to do something they've never done before and been amazing at it the first time they try! Don't expect yourself to know everything the first time. Everything is a learning process and a few practice tries will get you warmed up and ready for setting your first rivets on a real project. I usually set aside a couple small snippets of the same amount of layers/fabrics that I use for my finished project. It's great to practice a few times with scraps to get a good feel for how everything goes together and to get acquainted with the tools.
Install rivet:
Mark rivet placement: I like to use a water-soluble pen for marking placement. I find it works for the particular leather handles that I use, but do a test marking with your materials that you're using. I usually use the cap part of the rivet to get a good look at how things will work. I recommend setting two rivets per handle end. The bag pattern you're using should suggest the distance between the straps, or align them to how you see fit.
Punch holes: Use an awl, leather punch or rivet press to punch the hole in both the leather and bag using the markings you previously made.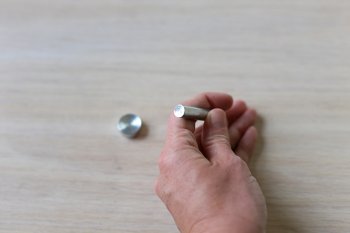 Align holes and push the rivet post through layers from exterior of bag to the interior. You can probably do it the opposite way as well, working from the inside of the bag, so do what works best for you after doing a few practice runs. Snap rivet cap in place on rivet post. Some rivet brands click into place, others may not.
Set rivet: Using the setting tools or rivet press, attach the rivet. Most likely if you're new to using rivets a setting tool is the most affordable option. It comes with a strike post and anvil. The anvil is set on a solid surface. After you align the attached rivet over anvil the strike post is the tool to set over the cap. With a soft hammer or mallot, strike the post with a few solid taps. A rivet press is a really amazing tool. Most also are able to be used for setting grommets or even snaps. They are fairly costly, so I do suggest trying the hand setting tools first.
That's all! Pretty painless, right?! I think the more you practice, the more confident you'll feel. I can't wait to see all the awesome ways you'll be incorporating rivets into your handmade projects!
Round Three of the Super Online Sewing Match II is sponsored by Fat Quarter Shop. Fat Quarter Shop offers quilting fabrics, fabric precuts, quilt kits, patterns, notions and more. They also offer a wide range of exclusive kits, clubs and block of the month programs. Fat Quarter Shop specializes in major brands such as Moda Fabrics, Cotton + Steel, Riley Blake Fabrics, Windham, Robert Kaufman, Art Gallery, Marcus Brothers, Lakehouse and Northcott. They also carry the largest online selection of fat quarter bundles!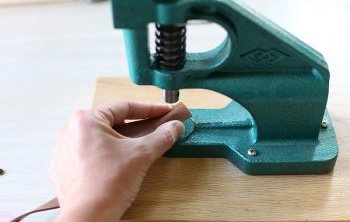 Source: www.sewmamasew.com
Share this Post