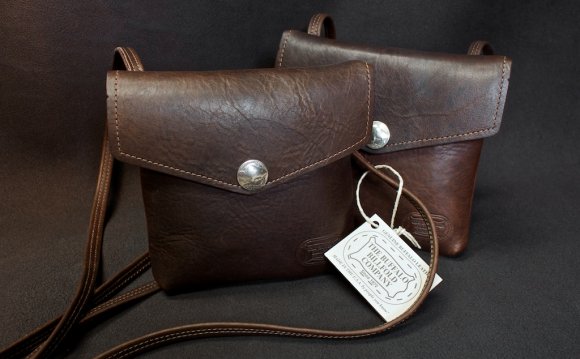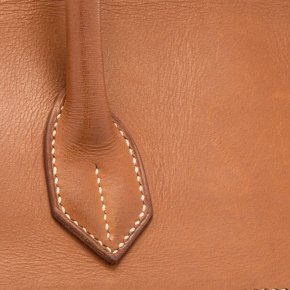 1 / 28
Barenia Natural
Originally used for Hermès saddles, Barenia is a smooth calfskin that is resistant to both scratches and rain.
2 / 28
Box Calf
Box calf is smooth and glossy, and although it is susceptible to scratches, they can be buffed into the leather's texture over time. Often found in vintage bags and neutral colors, but still actively produced today. Leave it at home on rainy days.
3 / 28
Buffalo
A pebbled, soft, water-resistant leather made from the hides of water buffalo. Dye tends to gather at the center of the pebbles, sometimes resulting in a spotted appearance.
4 / 28
Chamonix
A matte counterpart to box calf that does not scratch easily. It is not, however, water-resistant.
5 / 28
Chevre de Coromandel
Soft, lightweight, scratch-resistant, long-lasting goat leather.
6 / 28
Chevre Mysore
Similar to Chevre de Coromandel, but with a smaller, more visible grained texture.
7 / 28
Clemence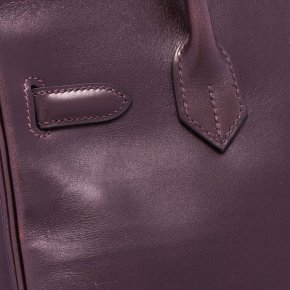 Clemence, one of Hermès's most popular leathers, is made from the hides of baby bulls. It's matte, flat-grained, soft and heavy, which gives otherwise structured bags a slouchier, more casual look. Resistant to scratches, but may blister when exposed to rain.
8 / 28
Doblis Suede
Traditional suede; scratches can be buffed out, but it should be kept away from moisture.
9 / 28
Epsom
Popular stamped-grain leather that is lightweight, durable and easily cared for. Not particularly soft.
10 / 28
Evercalf
Similar in appearance and behavior to Box Calf, but softer to the touch.
11 / 28
Evergrain
A version of Evercalf with a finely grained stamped texture. Soft to the touch, and scratches are easily rubbed away.
12 / 28
Fjord
Soft, heavy, flat-grained matte cowhide which is very durable, scratch-resistant and water-resistant. From a distance, the leather often looks like it has vertical veins running through it.
13 / 28
Lizard
Lizard is an exotic leather made from the hides of African water monitors. The brand's most delicate leather and prone to drying out if not cared for properly. The scales add up to a glossy finish; because of the size of the animals, lizard is most commonly found in accessories and smaller handbags.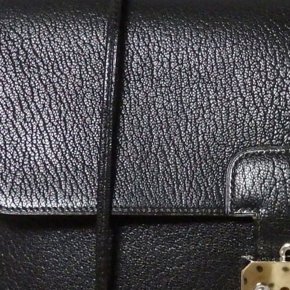 14 / 28
Matte Alligator
Delicate and very expensive. Hermès uses alligators farmed in Florida, and a matte bag usually costs a bit more than a shiny one, although alligator usually costs less than crocodile overall. Should be kept away from water.
15 / 28
Shiny (Lisse) Alligator
Delicate, but a shiny finish on the small alligator scales can help disguise imperfections. Alligator is visually distinguishable from crocodile because it lacks the dot-sized "pores" that mark every crocodile scale. Should be kept away from water.
16 / 28
Matte Niloticus Crocodile
Niloticus crocodiles come from the Nile region of Zimbabwe. As with other exotics, matte Nilo is more expensive than its shiny counterpart. Less expensive than Porosus Crocodile. In general, crocodile is somewhat durable, but it should be kept away from water to prevent water spots that do not fade.
17 / 28
Shiny Niloticus Crocodile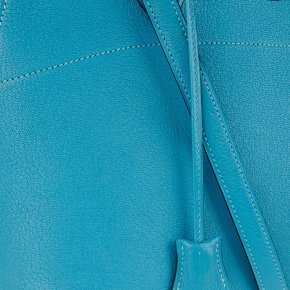 The glossier version of matte nilo. Should be kept away from water.
18 / 28
Matte Porosus Crocodile
Sourced from crocodiles farmed in Australia. Matte is more expensive than shiny, and Porosus is generally more expensive than Nilo, making Matte Porosus Croc Hermès's most expensive leather. Should be kept away from water to prevent non-fading water marks.
19 / 28
Shiny Porosus Crocodile
The glossier, slightly less expensive counterpart to Matte Porosus. Should be kept away from water.
20 / 28
Ostrich
Ostrich leather is the most durable exotic Hermès uses and is water-resistant, but will darken over time with exposure to skin oils.
21 / 28
Sikkim
Very soft and buttery; similar to Swift leather, but thinner and lighter. Susceptible to scratches.
22 / 28
Sombrero
Soft, smooth, relatively new calf leather with a matte finish. Susceptible to scratches.
23 / 28
Swift
Called Gulliver in bags manufactured before 1999. Swift is soft and fine-grained, and it picks up bright dyes particularly well. Scratches easily, but most can be rubbed out.
24 / 28
Tadelakt
A smooth, grain-free, semi-glossy calfskin. Very similar to Box Calf, but softer. Most commonly found in small leather goods, but sometimes also used for small bags.
25 / 28
Taurillon Cristobal
Soft, visibly grained and most commonly found in men's leather goods.
26 / 28
Togo
Togo is the most popular leather for Birkins. It's fine-grained, scratch-resistant baby calfskin that is relatively lightweight but still holds its shape.
27 / 28
Vache Liegee
Stiff, structured, durable cowhide with a natural grain and a touch of sheen. It is Hermès's thickest leather.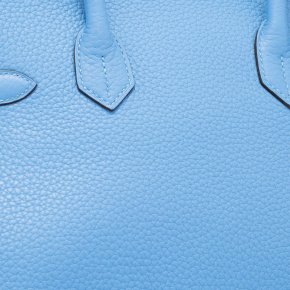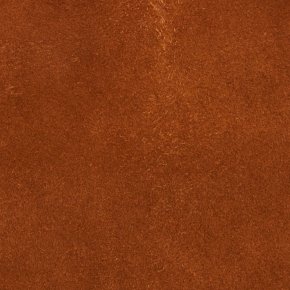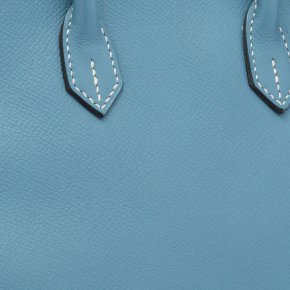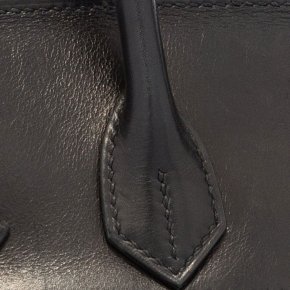 Source: www.purseblog.com
Share this Post