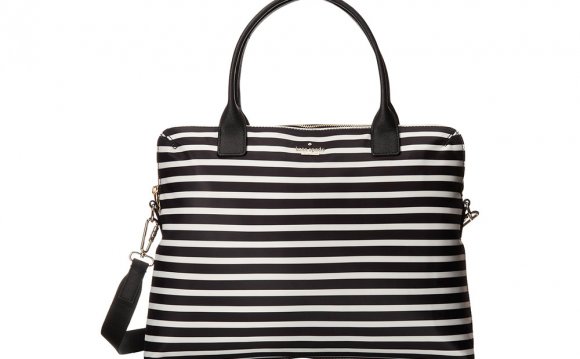 Laptop Bags Designed for Women Coakley Everyday Tote Begonia. Pricegrabber
Like shoes and jewelry, bags are an important accessory for women. They're like an extension of your personality and can help create a specific impression - whether you want to impress the boss or a client or simply add some style to your day. Laptop bags are a particularly important purchase, because you need them to protect your expensive laptop, have room for any other necessary accessories and everyday essentials, and also compliment your wardrobe. The good news is that today there is a broad variety of women's laptop bags that are as functional, distinctive, and gorgeous as regular women's handbags.
The laptop bags chosen in this gallery were selected for their unique designs and styles, as well as quality of features and the reputation of the laptop bag designers. Read on to see laptop bag showcases from Piel, McKlein, Coakley, BUILT, Case Logic, Kailo Chic, and more.
Piel Ladies Buckle Laptop Tote Piel Ladies Buckle Laptop Tote. Pricegrabber
Piel has long been renowned for great leather crafting, and this Ladies Buckle Laptop Tote is another example. The bag is quite large (18" x 13" x 6") so it should fit larger laptops up to 15" (the padded compartment is 15.5" x 11" x 2"). This genuine leather laptop tote has a zippered pocket organizer with slots for your cards and pens, a centered zippered compartment divider for your papers, and an open exterior pocket. One of the nicest things about the bag is that it can be used as an everyday laptop briefcase as well as a handbag.
Shine 2 Glossy Compact Laptop Bag Shine 2 Compact Glossy Laptop Bag. Ice Red Bags
If you're looking for a compact laptop bag that's fun and still appropriate for a lot of career situations, consider the Shine 2 from Ice Red Bags, a San Francisco bag designer and maker. The Shine 2 fits Macbook Pro 13" and other small laptops, offers multiple pockets for organization, and is very lightweight and comfortable to carry. Available in 4 glossy vinyl colors.
McKlein Glen Ellyn Detachable Wheeled Ladies Notebook Briefcase McKlein Glen Ellyn Laptop Bag. Pricegrabber
McKlein's 2-in-1 detachable wheeled briefcases are among my favorites, for sheer ingenuity. Not only can you roll your laptop and other stuff with ease when you travel (or just don't want to hurt your shoulders), you can detach the briefcase from the rolling frame for versatility. The Glen Ellyn has a cool retro look and comes in several colors. There's a removable high-density laptop sleeve for laptops up to 15.4" and the ABS honeycomb frame is designed to protect your laptop from shock.
Case Logic Carrying Case Notebook Sleeve Case Logic Notebook Sleeve. Case Logic
Source: www.lifewire.com
Share this Post