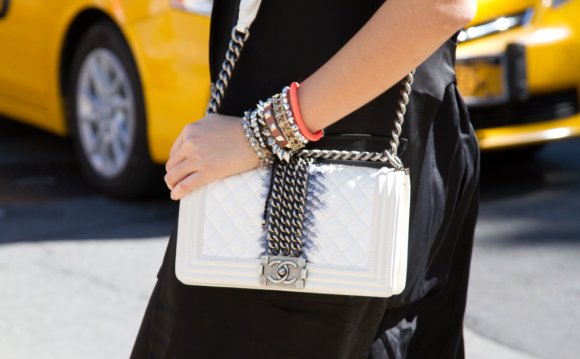 Leather is a popular and durable material for shoes, furniture and purses. Even though leather is sturdy, it's a porous surface that can absorb oils from skin and hands, causing stains. White leather is especially susceptible to stains. Here's how to clean white leather.
Wipe leather regularly with a dry microfiber cloth to get rid of smudges and light soiling. For a deeper clean, use a commercial leather cleaner or make your own. Mix a solution of warm water, a few drops of Castile or liquid dish soap and a few drops of vinegar. Dampen a cloth with the solution and wipe down surfaces. Do not saturate the leather, as too much water will damage it. Use a second cloth dampened with clean water to wipe off the soap. Dry thoroughly. Another recipe for a homemade cleaner: Mix ½ cup olive oil with ¼ cup of vinegar in a spray bottle. Spritz on the stain, let sit for five minutes and wipe. Whatever you do, avoid bleach or ammonia-based cleaners as they can damage the leather.
Wipe up spills as soon as they happen to minimize the chance of staining. Even if you're fast with the cleanup, stains will happen so you need to know how to clean white leather shoes, how to clean a white leather purse and how to clean a white leather sofa. Grab one of these items and get going.
To remove ink, dip a cotton swab in nail polish remover or rubbing alcohol and blot the stain. Don't rub or you may cause the ink to spread. Once you've removed the stain, clean the area with a mild solution of liquid dish soap and warm water. Wipe with a clean, damp cloth.
To remove oil or grease, sprinkle baking soda or cornstarch on spot. Rub it in, gently. Let sit for a few hours or overnight. The soda or starch will absorb the oil. Wipe off the powder with a soft cloth.
Wet the stained area with a damp cloth. Don't soak the area, just dampen it. Dab a bit of non-gel toothpaste on the stain. Use a soft toothbrush to scrub away the stain. Wipe the area with a clean cloth when finished, then dry with a towel. Toothpaste will also remove scuffs.
Mix equal parts of each into a paste. Apply to stain and let sit for about 30 minutes. Use a damp sponge to remove the paste. Lemon juice and cream of tartar have a mild bleaching effect that will help lift the stain.
Once your item is clean, apply leather conditioner to keep the surface from drying out and cracking. Conditioner also makes the leather resistant to future stains and gives it a nice shine. Knowing how to clean leather will help you keep furniture and apparel lovely and make it last.
Source: www.diynetwork.com
Share this Post