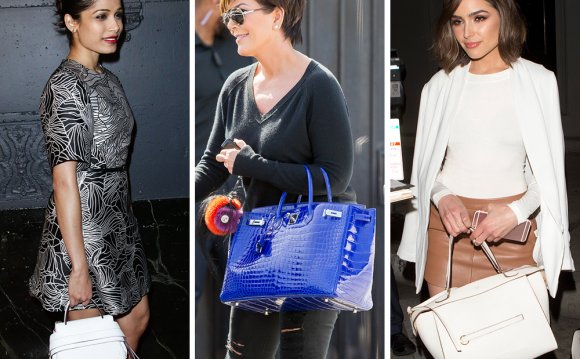 Mon Aug 24 00:00:00 MDT 2015
butterflylady70 Rating:
VERIFIED PURCHASE
My friends have always teased me about the amount of "things" I carry around in my handbags. However, when one of them break a nail or get a run in their stocking or need a Tylenol, I'm the first one they come running to! And this bag allows me to carry all the essentials PLUS and yet never feel overwhelmed. It has the two slanted outside pockets on the front, which are great for putting things like your smartphone, a small package of tissue, lip gloss, & your checkbook ( and that's just in ONE pocket! ). They run down the entire side of the bag and when you place your hand inside each, they reach across the front of the bag and nearly meet in the middle. The main compartment is just that, a main compartment. I'm a bit organized, especially because of what I like to carry with me ( I'm a mom, and you really can never be prepared ). Because of this, I purchased a handbag organizer years ago, and it makes things SO easy, especially if I want to swap handbags. The Suvelle is so roomy that it fits my organizer and my full size iPad 4 easily, and the main zipper closes without issue. Within the main compartment, there is one large zippered pocket that runs almost as long as the inside of the bag. You could easily place a handful of basic beauty products as well as a bottle of sunscreen in this pocket! ( please don't forget your sunscreen, as a skin cancer survivor and once again, a patient, most people don't realize how dangerous our sun has become!) On the other side of the inside wall is a small open pocket as well as a two open long loops (to hold a pen, pencil, marker, eyeliner, or mascara? lol ). And right next to that are 5 open card slots, in the event you choose not to pack your wallet, I suppose. It's not something I normally use in a handbag but this time, with the Suvelle, I decided to use it for my most frequently used "Member Reward Card"s, like Sephora, the supermarket, etc.It ended up being a great idea, and I didn't have to rummage thru my wallet and store and credit and debit cards! I wasn't sure about going the nylon route, but once I received it, I was very pleased with it. It's black accented in white, very durable, sporty, double handled so you can decide if you want to hold it with your hands or use the shoulder strap. I found myself utilizing both the carry handles and the strap, both felt comfortable. The very best part of deciding on the nylon was the fact of it being basically waterproof. This past summer was extremely hot here in the Northeast and we had many thunderstorms as the storms tried to break the heat. And when it rained, it poured... And I was very relieved that I was not carrying my Calvin Klein leather bag. Overall, I think this made an excellent choice as a bag for spring/summer. I'd buy it again, perhaps in a lighter, brighter color, and of course, I'd highly recommend purchasing the bag, to use as a handbag, a messenger-type bag for the office, or even a trendy diaper bag if you aren't the kind of Mom who's into carrying around a pink, blue and yellow tote with bunnies (although that sounds very cute!).
Source: www.overstock.com
Share this Post