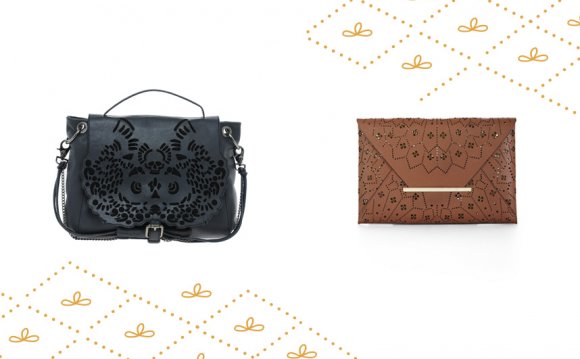 Whether or not you like it, the handbag you choose to carry is a status symbol. Some people buy purses which say "I'm classy" or "I'm rich." And while those are both lovely adjectives (if that's your thing), we prefer taking action. Let your handbag say, "I just got back from killing this dragon. Did you need some help with that?"
This Dragon Fang Laser Cut Bag features black faux-leather scales against a red background that really makes their shape pop. It's got short handles and also a removable crossbody strap so the style works for more adventurers. But the best part is the closure. The top has a tab with a loop into which you slot a dragon fang. So basically you have a dragon's maw protecting your stuff. The red inside is generous, because adventuring requires a lot of equipment. We understand these things, as adventurers ourselves.
Product Specifications
Dragon Fang Laser Cut Bag
A ThinkGeek creation & exclusive
Top tab loop features a dragon fang closure (on a chain, because we've met you)
Gunmetal studs and hardware
Double handles have 11" drop
Removable crossbody strap adjusts from 13" - 24" drop
2 side pockets for easy access to a soda, phone, or dragon mace
3 interior pouches (1 with a zipper closure)
Metal feet on bottom to prevent wear and tear
Materials: 100% polyurethane body (exclusive of decoration, which is, obviously, dragon - also known as acrylic); metal hardware; 100% polyester lining
Care Instructions: Spot clean only
Imported
Exterior Dimensions: 15" long x 4" deep x 9 1/2" tall (8" at center)
We're not giving you interior dimensions because it's not padded and other than the tab loop, it doesn't have a top closure, so the sky's the limit. Or, rather, your armpit.
Source: www.thinkgeek.com
Share this Post