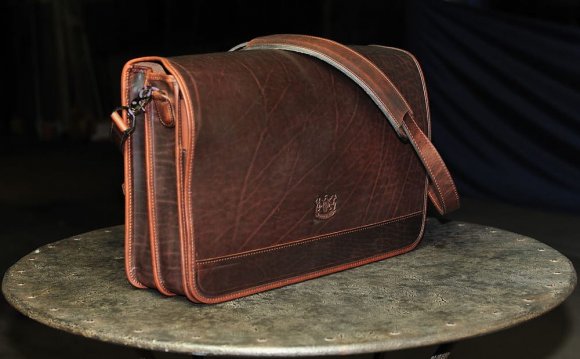 I spent 3 months writing my proposal and negotiating the contract, 7 months writing, sketching, illustrating, scripting and shooting the book and video. It was the hardest, most demanding project I've ever done.
When it was complete, I wanted to get something special for myself as a reward and a reminder — I chose a beautifully hand-crafted custom leather briefcase from Mitchell Leather in Milwaukee's Third Ward.
Specs & Construction
For the majority of the briefcase, I chose Horween leathers: Cognac Dublin, a medium brown leather that's tough, yet supple and classy, and for the darker highlight, Horween Brown Chromexel (CXL), also tough and beautiful. For the internal liner I chose a lighter weight tan leather, and the finishing touch — nickel-plated brass hardware for contrast.
Construction took about 7 months — David Mitchell's skills are so in demand, he's running a backlog for these briefcases and other leather items. You can read about David and his shop, or watch this excellent short video about him, created by my friend, Brian Artka:
The Selection & Building Process
The process began with my order. I spent time with David, selecting my leathers and hardware and telling him how I would be using the case. This case would become my daily carry-all, with enough room for my main items and that's all. I have a tendency to carry more than I need, so this was a way to limit my daily items. I have a Timbuktu backpack for heavy loads when needed.
Daily items included: a 13" MacBook Pro (or Air), power supply, a full-size iPad, one large Moleskine notebook, one or two pocket Moleskine Sketchbooks for sketchnoting events, pens and pencils, space for cords and adapters and enough room for a book, magazine or a folder of papers for projects.
Once I had the model, leathers, hardware choices and details settled, David took a deposit and put me on the waiting list.
Construction
In August, about 7 months later, I was curious, so I paid a visit to Mitchell Leather. David happened to be starting my case, so we went up to the factory and showed me the raw pieces, getting prepped for construction.
A week later, he sent more images as he finished the case. Here are David's photos of the case in progress:
Completion!
The final piece turned out great — colors, leather weight, and of course, that leather scent really sealed the deal.
Having the case for a few weeks now, I'm finding it's a perfect size for what I really need and nothing more. By getting the size just right, the case has kept my load light and manageable.
My challenge: to accept the normal wear, tear and markings on the leather that will give the case personality and character. Starting with a perfect case makes this hard, but as I see the case getting worked in, I'm loving it even more.
gold asteroid coming towards earth
attitude towards gold
steps towards gold
perception towards gold loan
is gold attracted to anything
what element is gold attracted to
gold under armour cleats
gold under microscope
gold under the vatican
gold under armour shoes
gold under world trade center
gold under black light
gold under armour shirt
gold underneath twin towers
gold underneath the vatican
gold underneath world trade center
underneath gold
rose gold underneath hair
gold plating underneath
there is gold underneath a man's knees
was gold stored in the twin towers
until gold was discovered
hammering gold until it becomes flat
gold coast until 1957
green and gold until the club is sold
green and gold until i'm dead and cold
green and gold until the club is sold meaning
green and gold until we are sold
when was gold first discovered
gold up in my teeth
gold up usa
gold up in my teeth lyrics
gold up or down
gold up screens
gold up today
gold up in my teeth song
gold up in my chain
gold versus silver
gold versus bitcoin
gold versus platinum
gold versus inflation
gold versus versace watch
gold versus s&p 500
gold versus brass
gold versus platinum amex
gold via mail wow
gold via
gold via roma
via gold max
via gold metal detector
via gold dedektör
via gold dedektör fiyatları
via gold dedektör yorumları
golf with friends
golf with your friends
gold with no markings
gold with diamonds
gold with matthew mcconaughey
gold with silver
golf with friends crossplay
gold with diamond necklace
gold within or sun above
gold within 5000
gold within 10000
gold within
gold within 2000
gold necklace within 50000
gold necklace within 2 lakhs
gold necklace within 1 lakh
gold without the a
gold without borders
gold without stamp
gold without nickel
gold without the a meaning
gold without hallmark
gold without markings
gold without making charges
agolde
agolde jeans
agolde riley
agolde 90s jeans
agolde 90s pinch waist
agolde leather pants
agolde shorts
bgoldn
bgoldnyc
golden state warriors
bgoldglass
golden corral
golden retriever
cgoldenwall
cgoldenwall grinder
cgoldenwall steam generator
cgoldenwall scale
cgoldenwall company address
goldman sachs
goldbelly
golden state stimulus
Source: rohdesign.com
Share this Post