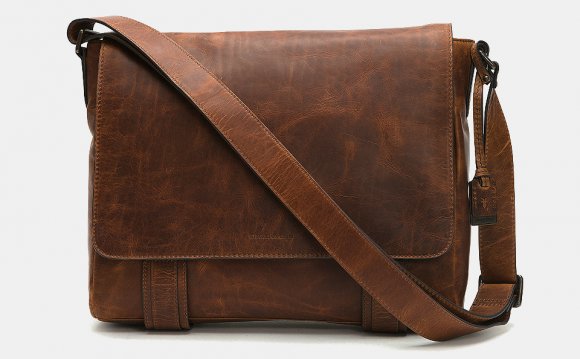 Your grandfather had a briefcase, and you almost did too. Thankfully, somebody came around and invented the messenger bag – which is easier to carry, and a more versatile alternative. Messenger bags are a great way for guys to carry laptops, documents, tablets, or anything else really – and they look so much better than most back packs or briefcases. Messenger bags are the logical progression for guys who usually just throw everything into their old college/high school backpack, and want to upgrade to something a little more stylish. Upgrading to a proper men's leather messenger bag is an awesome compliment for any guy-on-the-go. These bags can come in a variety of material, with leather being the most popular. So we decided to try and find the best messenger bag for men, made from leather.
Anyone doing their homework on these leather shoulder bags for men will soon realize that many fellow customers with a moderate budget are trying to choose between two great bags, one by Samsonite and the other by Kenneth Cole. These are the first two bags that we reviewed however we were able to find a few others that are also great picks.
Samsonite Colombian Leather Flap-over Case
Specs:
Price: 5 – 0
16.5″ x 12″ x 5.5″ | 3.9 lbs
Fits laptops up to 15.6″
Check lowest price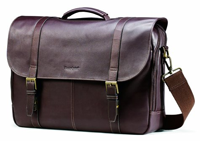 This Samsonite genuine leather messenger bag is at the top of our list for a number of reasons. First and foremost it is one of the highest rated bags that we've reviewed. Secondly, Samosnite is a brand you can trust. We have chosen Samsonite as the best luggage brand in our featured top 10 luggage brands article. Currently there are over 1, 400 customer reviews for this bag with an average of about 4.3/5 – which proves that this is a very well-liked bag. Compared to the Kenneth Cole Reaction, this bag's leather seems to be a bit softer. Don't let the picture fool you, the bag is not too shiny in person, and happens to have a nice slightly-worn look to it, making it a great casual messenger bag.
This is a very spacious bag, one user reported fitting 2 laptops (fits up to 15.6"), 2 chargers, a mouse, and 2 notebooks in his. Reports are that this bag is quite durable as well. Scratches can happen but overall the material does a great job of not scratching/deteriorating easily. If you need a leather messenger bag to hold more than what was mentioned above, you may need something larger like a rolling carry-on or a backpack. If a lot of space isn't a huge deal, you may want to go with the Kenneth Cole Reaction Show Business messenger bag.
Kenneth Cole Reaction Luggage Show Business
Price: 0 – 9
13″ x 9″ x 4″ | 2 lbs.
20″ shoulder drop
Check lowest price
This Kenneth Cole 100% leather messenger bag is very similar to the Samsonite Columbian, with a few bonuses. They are both genuine leather, however this one comes in 3 colors (brown, black, tan) while the Samsonite is only available in the standard brown. This Kenneth Cole is also pretty roomy with pockets for a 15.4" laptop and many other small items. The reviews are amazing for this bag as well and many people agree that this bag looks a lot more expensive than it really is (typically a little more than the Samsonite). This is, however, a little smaller than the Samsonite, so you may need to opt for something else if you need more room.
Overall this bag and the Samsonite are very similar, it may just come down to looks for some people, so check out all the pictures over at Amazon and see which one you like better, either way you really can't go wrong. When it comes down to it, both are great picks for the best leather messenger bag for men.
Visconti Vintage-7 Veg Shoulder Bag
Price: $160 – $224
14.1″ x 3.9″ x 11.8″ | 4.4 lbs.
Fits laptops up to 13″
Check lowest price
Source: www.theluggagelist.com
Share this Post