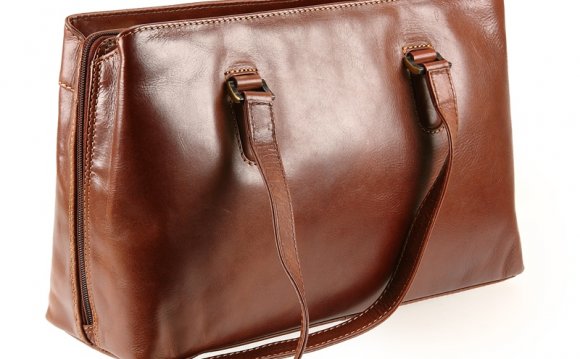 Very early bags (1981-1982) have no sewn in cloth tags. Instead, they have an embossed DB logo.
Some of the very early bags have a solid brass rectangle with a stylized DB logo.
The first sewn-in tags (1983-1984) were fairly large green rectangles sewn flat into the bag and said:
DOONEY & BOURKE
stylized DB
MADE in USA
The round stylized DB brass fob appeared with the green tag bags and also later in a period when bags had no sewn-in labels at all.
Since the mid to late 1980s red, white and blue tags were sewn inside the bag in conjunction with trim or a seam. They say:
DOONEY &
BOURKE, INC
Made in U.S.A.
They have a registration number on the back.See further notes about this tag below.
Handbags in the AWL collection (1983-1990s)
usually will have:
Oval leather duck logo glued and sewn on the front or back of the bag depending on style.
Solid brass hardware including all buckles, rivets, D-rings and latches. Rivets are usually stamped with Dooney & Bourke.
Solid brass Duck fob hanging from a leather thong. The fob has:
Dooney & Bourke
a duck
All-Weather Leather (with a registered trademark symbol)
Authentic duck fobs show a sharp, detailed eye, some space between the duck's bill and his body and has a textured background.
In the late 1990s, some collections had Solid Nickel or Nickel Plated Duck fobs.
Label of red, white and blue fabric sewn inside the purse that says
DOONEY &
BOURKE, INC
Made in U.S.A.
on one side . . .
Wallets and such that do not have sewn in tags will have a stamp embossed into the leather or a leather tag sewn inside that says
Dooney &
Bourke
Made in USA"
on the inside or the back.
Leather seal found on items in the Glove Leather Collection:
Dooney & Bourke
Norwalk Conn. Made in USA
Fine American Leathergoods
Dooney & Bourke Bag Trim Designation

There are 3 main trim colors on original AWL Dooney & Bourke handbags.

British Tan trim is designated by R in front of the bag's number.

This includes British Tan with British Tan trim.

R54

"We hope you enjoy looking through the bags we've found and
Source: www.horsekeeping.com
Share this Post