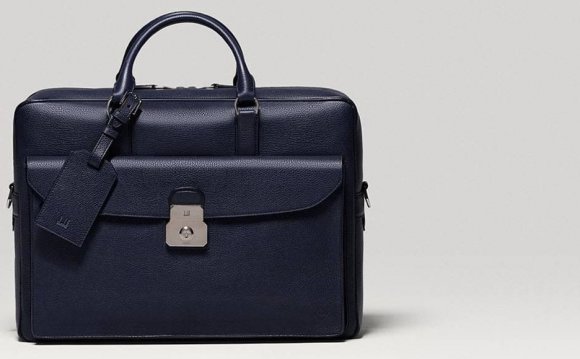 Every man knows that the finishing touches to their daily attire and overall success of their style lies in the details. Women get to focus on fancy garments, while men need to pay attention to the layers of embellishments being displayed. Putting on a great suit isn't complete without a shirt and tie that pops, as well as some stellar cuff links. Then, of course, you need some fancy shoes and a well designed coat. Those are not all the details though, as one of the most important components is missing; the briefcase.
The term "briefcase" actually came around in 1926 and was coined this way because of the word "brief, " in the paper sense. Typically, lawyers were spotted carrying these bags to hold their court briefs, and the birth of this accessory came about. It became well-known as the leather bag that men carried to work with them on a daily basis to bring important papers and books, and always had a top handle. In current day, these bags are now most often used for carrying laptop computers, tablets, and other electronic devices.
Over the years these bags have transformed a bit, as some designers add fashion forward touches, but still remain true to the initial purpose. You can spot men carrying high end, designer briefcases from a mile away, because they complete a look and make each man carrying one look very polished and dapper. Designers create these bags in various materials, but for spring 2014 we are seeing some definite trends in this category.
Designers are constructing their briefcases for spring 2014 using tradition leather, nylon, and canvas materials, but adding details such as ombre, scenic prints, and camouflage. While many designers still create your standard briefcases for men, because it's essential for every man to have at least one of these, they are also branching out. These trends show that men are steering away from the traditional this season and taking fashion risks with their accessories.
10. WANT Les Essentiels de la Vie, Zip-Top Canvas Briefcase: $450
This is an upscale briefcase for a classic silhouette loving guy that doesn't want a ton of bells and whistles in his briefcase. It is simply constructed of organic cotton canvas and the added detail of a basic leather trim, making this bag one that is meant for wear and tear (A.K.A. coffee spills, pen explosions, etc…). It features two-tone hardware with traditional tote handles, leather logo, and full exterior zip pocket. Overall, we would call this bag "the man's classic, " as its the perfect accessory for everyday wear.
9. Fendi, Zucca Ombre Briefcase: $1, 150
Grasping onto this Spring 2014 ombre trend, this Fendi Zucca Ombre Briefcase is a fun way for any man to add a pop of color to their style in a very masculine way. With the Fendi logo displayed all over the canvas briefcase, you are sure to turn heads while carrying around your iPad in this bag. It is finished with a beautifully detailed leather trim and palladium hardware, and for your comfort, the removable and adjustable hanging at a fifteen inch drop.
8. Gucci, Medium Messenger Bag: $1, 250
The messenger bag is simply a modern day word for a bag that is in between a briefcase and a carry-on in size. It's perfect for the man who has more to carry throughout the day, yet comfortable as well because of the design and long strap, resting the bag on your hip. Gucci originally started their company only selling leather goods, so buying this bag is truly a tribute to their craft. Constructed of brown Guccissima chocolate leather with brown trim, light gold hardware, and flap closure with magnetic strap, you are ready to take on the world. The interior features an inside zip and cell phone pockets.
7. Salvatore Ferragamo, Gamma Gancini-Embossed Computer Case: $1, 550
Another Italian great, Salvatore Ferragamo has created a men's bag so distinct and manly that it is unparalleled in design. Constructed of the well-known, smooth Gancini-embossed leather, this bag is a testament to Ferragamo's shoe and handbag Empire. (Hint: if you visit Florence, Italy, you can stop in the Ferragamo Museum and see quite a collection!) Made complete with silver tone hardware, rolled leather handles, an adjustable logo web shoulder strap, you will be ready for your breakfast meeting. The organizational component is complete with the two exterior and interior storage compartments, padded laptop sleeve, and zip pockets.
6. Tom Ford, Small Briefcase with Horn Closure: $2, 420
Known for turning Gucci into an icon of modern fashion, Tom Ford's own collection does that and more. This Small Briefcase with Horn Closure is the epitome of the Tom Ford brand being sleek, sexy, yet durable and functional as well. It is finely crafted of pebbled calf leather, and featured a traditional horn closure, bearing the Tom Ford logo. The interior is lined with leather as well and is completed with a soft leather partition, making it easy to organize.
5. Prada, Beach Scene Saffiano Briefcase: $2, 450
Originally starting in 1913 strictly as an accessories brand, Prada knows their briefcases. With their pieces being spotted on celebrities worldwide, they are truly a fan favorite. Prada is accurately displaying the warm months with the Beach Scene Saffiano Briefcase, as it showcases a beach scene printed on saffiano leather. It comes well equipped with a leather lining, padded tablet sleeve, rolled leather handles, and silver hardware. It is made in Italy, but you will feel like you are somewhere tropical when toting this around.
4. Bottega, Veneta Softie Slim Woven Briefcase: $2, 450
Bottega Veneta has crafted the most masculine pop of color in a briefcase that a man could ask for. This perfect black woven leather briefcase features gunmetal hardware and is stylish, sexy, and shows that you have true style. It's complete with leather straps and a web shoulder strap that is adjustable for comfort, zip top, and front zip compartment. This is a true must have for the spring 2014 season, oozing with sophistication and class.
Source: www.therichest.com
Share this Post