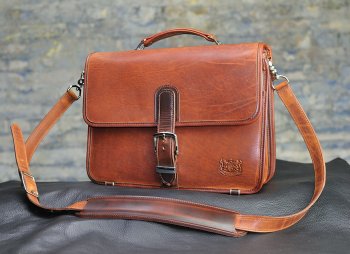 ________________________________________________________
The Compact Classic Briefcase - Elegant & Efficient
The newest Mitchell creation is a smaller version of our venerable Classic briefcase. Known as the Compact Classic, this case is perfect for today's new smaller netbook computers, iPad and letter-sized folders and documents. The Macbook Pro13 is also a perfect fit. It measures 13.5" wide by 10.5" tall externally and uses the exact same ultra-rugged patented construction as the Classic, including the modular handle with integrated steel frame, resistance strap holders and leather lined solid brass feet. There are two main compartments (approximately 12.75" wide x 9" tall) with multiple inner pockets, a detachable key holder, pen holders, an internal zipper pocket and outside back pocket. We also include the same heavy duty double layer adjustable strap and
leather shoulder
pad as is used on our larger cases. Shown here in chestnut Dublin with brown CXL accent leather, the Compact Classic is available in the same variety of leathers as our larger cases.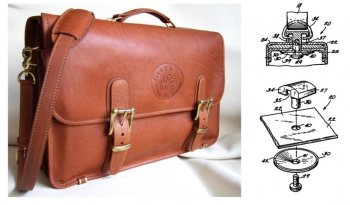 Built to order
Priced from 90
______________________________________________
The Compact Messenger Casual and Quick Access
We also now offer a smaller version of our full size Messenger. Dimensions and specifications are the same as the Compact Classic above but without the handle and with a long flap featuring hidden Neodymium magnets for quick access.
Built to order
Priced from 90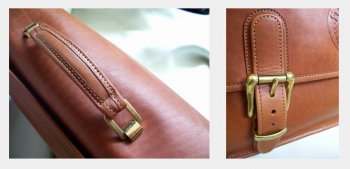 _______________________________________________________________
Customizing Your Briefcase
Our briefcases are often built to order which allows you to customize the look of your case. Here are some of the choices:
1) Determine which model/style case you want.
Classic Briefcase
Messenger Case
Compact Classic Briefcase
Compact Messenger Case
2) Choose a main exterior leather. To help you decide, answer some of the following questions:
Do you tend to dress more casual or formal?
Is the case going to be used for daily work in a more formal environment?
Do you like darker or lighter leathers? If darker, do you lean toward black or brown?
Would you prefer that your case be all one color or a two tone?
There are lots of possibilities here. The most popular are: all black, all brown, two-tone with brown and black, and two-tones that have burgundy and black. To make an all black bag less ordinary we often do a two-texture combination of something like smooth black main leather with pebble grain leather for the binding and buckle details. In the brown family you have all kinds of great choices from light to dark. If you narrow it down to liking lighter or darker browns, your best bet is to check with me to see what interesting leather hides I have on hand. Two-tones with brown and black are great because they will match whatever shoes and belt you have on.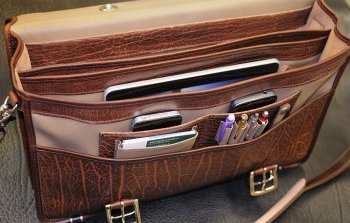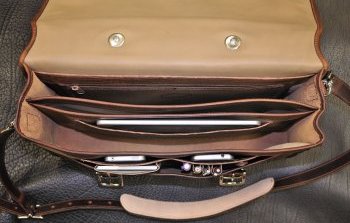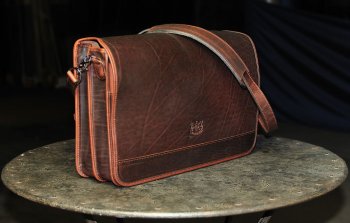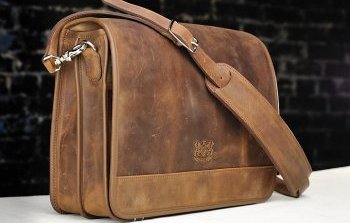 Source: www.mitchell-leather.com
Share this Post