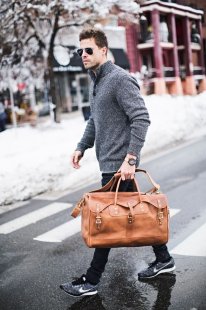 HELLO HIS, A BRANCH OF HELLO FASHION BLOG, SERVES AS AN ULTIMATE LIFESTYLE RESOURCE FOR MEN (AND YOU BEHIND-THE-SCENES WOMEN STYLISTS). HELLO HIS SHOWCASES A MAN'S STYLE AS A WAY TO COMPLEMENT AND ENHANCE ANY MOMENT LIFE THROWS HIS WAY. CODY, THE MAN BEHIND HELLO HIS AND A FREQUENT GUEST ON HELLO FASHION, DRESSES THE WAY HE LIVES – IN THE MOMENT. HIS LAID-BACK, FUNCTIONAL, AND SHARP AESTHETIC BLENDS CURRENT TRENDS WITH AN INTERNATIONAL INFLUENCE. CODY'S STYLE REFLECTS BOTH HIS MOTTO TO NEVER TAKE LIFE TOO SERIOUSLY AND HIS SPONTANEOUS, ADVENTUROUS LIFESTYLE WITH HIS WIFE AND THREE KIDS.
Looking for style inspiration for the rest of the family?
GREY SWEATER (SIMILAR HERE) | BLACK SLIM JEAN | SNEAKERS | WATCH | BROWN LEATHER DUFFLE BAG |
I've been looking for a nice leather bag for weekend trips and just got this sweet vintage duffle. The best part about having a weekender bag is no more checking luggage for those quick getaways.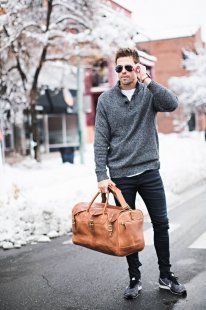 The bag is the perfect size to pack what you need. I like that it has the shoulder strap for easy traveling. Usually my free arms mean helping Christine with her luggage – if only I could convince her to pack in a weekend bag too 🙂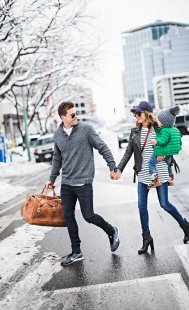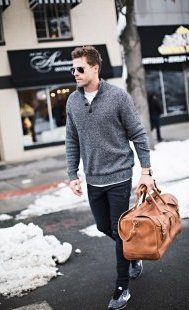 Source: hellohis.hellofashionblog.com
Share this Post