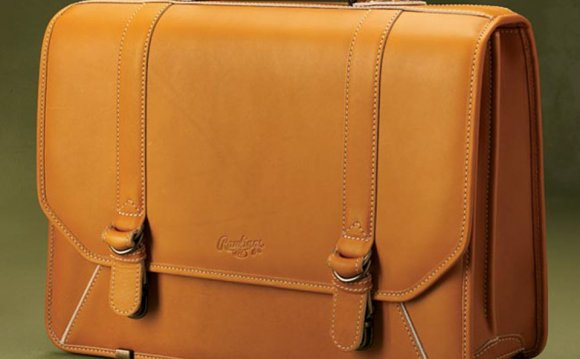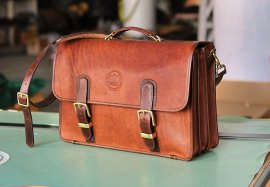 Above: Classic in Cognac Dublin with Brown CXL details and binding
Below: same case showing the Navy Buttertan interior
Above: Classic in Italian Brown Dublin
Above: Classic in Brown CXL with black Shell Cordovan details and black binding
Below: same case with Cream-Beige interior
Above: Classic in black Dublin with black Shell Cordovan details and nickel hardware
Below: same case with grey interior
Above: Classic in all medium brown CXL with brass hardware
Above: Classic in Burgundy CXL with black Shell Cordovan detail and brass hardware
Below: Classic in Burgundy CXL with black Shell Cordovan detail and nickel hardware
Above: Classic in all natural CXL with nickel hardware
Above: Classic in all natural CXL, hand tumbled with nickel hardware
Below: same case with cream-beige interior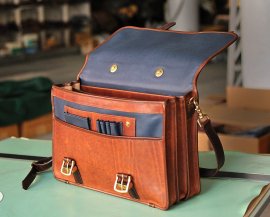 Above: Classic in all dark brown CXL with brass hardware
Below: same case with red interior
Above: Classic in all golden wheat CXL with brass hardware
Below: same case showing top view of the main compartments of the interior
Other Products in Horween Leather
We offer Horween versions of our Money Clip Wallets and our Card Wallets in your choice of Chromexel $79, Dublin $79 and Shell Cordovan $179. BUY
Above: Money Clip Wallets in Dark Brown, Golden Wheat & Black CXL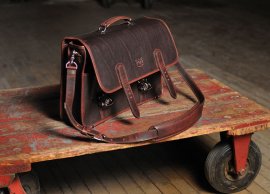 Above: Burgundy Shell Cordovan Money Clip Wallet
Above: 'Natural' Shell Cordovan Money Clip Wallet
Above: Horween Dublin Natural (left) and Dark Nut Brown (right)
Above: Brown CXL w/cream contrast stitch & antique nickel buckle
Above: English Tan Dublin 1.25" Belt with Classic Nickel Buckle & Cream Stitch
The watchband pictured at the top of our page is made from a beautiful medium brown Horween Chromexel pull up leather.
Nothing makes a better home for your than one of our custom cases made from rich character-filled Horween Chromexel leather. From $169.
Above: Large Valet Tray in Horween Italian Brown Dublin
Valet trays in Horween CXL and Dublin from $99 for our large size.
Valet Trays can be ordered on our shopping cart
Horween Leather Color Samples:
Above: L-R: Shell Cordovan Natural, Burgundy & Black
Above: T-B: Dublin Black, Cognac, Chestnut & Dark Nut Brown
Above: T-B: CXL in Burgundy, Natural, Burnt Orange & MD Brown
It's impossible to show colors accurately via the web, but we're dumb enough to try. Please do realize that no two leather hides are the ever exactly the same and neither are most monitors.
Describing the look and feel of Horween leather types:

Chromexel (CXL) is a very smooth and medium soft leather that still has a meaty feel. It's known for it's pull up character. It shows marks very easily but looks great once distressed. Starts more formal and becomes more casual with wear and time.
Dublin has become one of my very favorite leathers due to it's slightly more firm temper and rich character which has a crackle effect due to the harder wax finish. Using the same recipe of ingredients as shell cordovan, it's neither too firm nor soft, but the perfect in between. It feels more dense than CXL and the pull up and crackled finish make it look more vintage and antiqued with time and wear. It starts out a little more casual than CXL and gets even more so as it distresses.
Shell Cordovan is what Horween is most famous for and for good reason as it is one of the most durable and interesting leathers in the world. Shell has a much firmer feel and is more dense than any cowhide but it does soften over time and ages and patinas in beautiful ways. It looks and feels substantial in a way that is oddly satisfying when you hold it in your hand. The smell is also very special. The cost is high and the available hide size limits us to using this magical leather on small accessories and key parts of briefcases.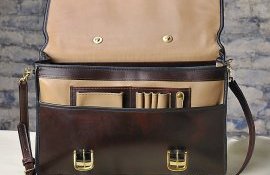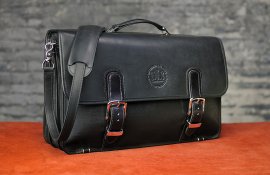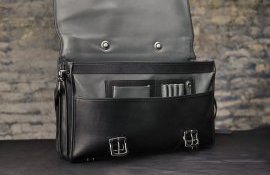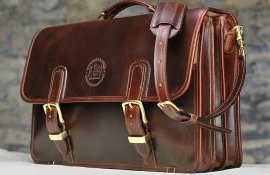 Source: www.mitchell-leather.com
Share this Post