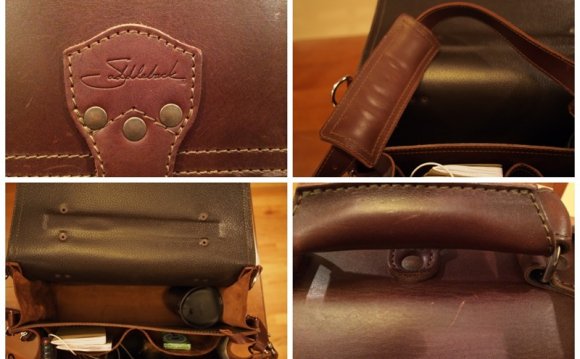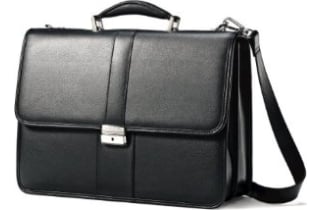 Overall Rank: 6
Best Mid-Range
★★★
Overall Rank: 1
Best High-End
★★★★★
Overall Rank: 9
Best Inexpensive
10
The Samsonite Flapover is a solid, good-looking bag at a great value. It makes the perfect travel companion as it fits nicely onto the handle of a suitcase thanks to its hidden back-flap design, but it can't hold a lot of stuff or bulky items.
great for light use
well padded top handle
clasp is difficult to close
Brand
Samsonite
Model
Weight
5.8 pounds
If you like a little more structure in your briefcase, then the Alpine AS-7621 makes an excellent choice. It boasts a very clean and professional look and is equipped with dual combination locks that can be programmed with two unique number sets for added protection.
has 4 protective metal feet
expandable interior file folders
hinges aren't very durable
Alpine Swiss
AS-7621
6.9 pounds
The Kattee XZ122 is available in 3 rich colors and fits the bill for quality, function and style. It has 2 front zippered pockets for your keys, wallet and passport and the sturdy flat top handle makes it easy to grab and go to your next destination.
shoulder strap adjusts to up to 55" long
clasps and zippers close tightly
leather color may rub off onto clothing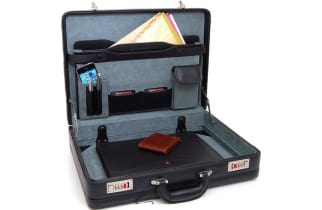 Kattee
XZ122
pending
If you love a retro vintage vibe, look no further than the Peacechaos Tote, featuring a weathered brown leather exterior with decorative bronze buckles on the front flap. Its hidden push button closures provide a simple, but secure, way to access all of your items.
back pocket is great for tablet storage
has a wallet and cell phone holder
zipper sometimes gets stuck
The Polare International is a great multifunctional bag for work or leisure with several interior compartments to keep things nice and tidy. It features a versatile strap that can transform this leather bag from a briefcase to a messenger bag, backpack or luggage tote.
durable industrial-grade stitching
genuine thick cowhide leather
buckels don't seem super durable
Crafted for the modern businessman, the Coach Sport 72053 can get you to where you're going in style. It features a slim silhouette trimmed with contrast leather for added richness, plus it has soft leather handles and a detachable shoulder strap for versatility.
multifunctional interior pockets
luxurious fabric lining
doesn't have a separate laptop sleeve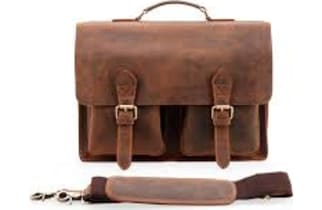 Coach
72053
3.1 pounds
The stunning hand-made Maxwell Paolo2 will get you noticed in the courthouse, conference room or airport with plenty of inside storage space for your paperwork, laptop and more. It also has a lock and key for safekeeping of all your valuables.
interior slip zip pocket on the flap
fully lined in high-quality leather
can be personalized or embossed
Maxwell Scott Bags
Paolo2_613
The Saddleback Leather Co. Classic is a stand out with its high quality construction and craftsmanship. Its 100% full-grain boot leather continues to look better with age and the nickel-plated metal hardware is built to last for a lifetime.
double-stitched at every stress point
ideal for overnight business trips
available in a m, l or xl size
The stylish Braunce RTXCXBM032-BBK is a great choice for those with a casual contemporary vibe. It looks more expensive than its budget-friendly price tag and is made from a waterproof Oxford fabric with PU leather that can stand up to your daily commute.
versatile and functional
padded sleeve holds up to a 15" laptop
double tote handles with a 3.7 inch drop
Banuce
RTXCXBM032-BBK
2.8 pounds
The Tumi Astor Ansonia boasts a refined sophisticated look with exquisite attention to detail. This Italian embossed zip top briefcase is made from the finest leathers and fabrics, plus has a dedicated space for your tablet, phone and other electronic accessories.
double zipper closure
deep, wide roomy interior
has card pockets and pen loops
Thanks for reading the fine print. About the Wiki: We don't accept sponsorships, free goods, samples, promotional products, or other benefits from any of the product brands featured on this page. For our full ranking methodology, please read 'about this wiki', linked below. The Wiki is a participant in associate programs from Amazon, Walmart, Ebay, Target, and others, and may earn advertising fees when you use our links to these websites. These fees will not increase your purchase price, which will be the same as any direct visitor to the merchant's website. If you believe that your product should be included in this review, you may contact us, but we cannot guarantee a response, even if you send us flowers.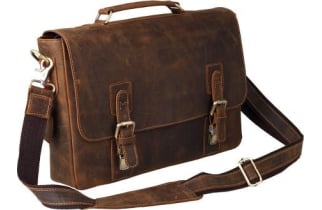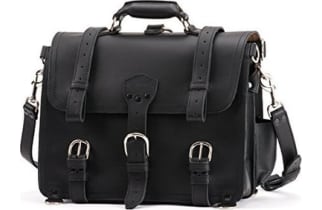 Source: wiki.ezvid.com
Share this Post