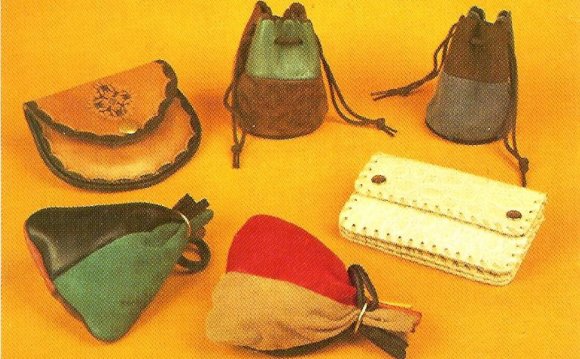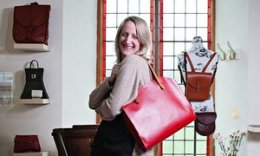 Tote's amazing: Hannah Booth proudly shows off her handmade leather bag at Pembrokeshire Leatherwork, Penffordd, Wales. Photograph: Gareth Phillips/Gareth Phillips for the Guardian
Do I ever make things with my hands? Gaynor Davies-Howell, our teacher for two days, asks the question with a note of concern in her voice. I rack my brains: does cooking count? I'm creative, but don't have the inclination or patience to sew, knit or sculpt. But I understand what she's thinking: can I handle a knife and a needle?
We are holed up in a tiny former chapel in the small village of Penffordd in Pembrokeshire, preparing to make our own leather bags. The nearest station, Narberth, is a request stop: you flag down the single carriage as if you were hailing a bus The room smells of leather, and a wood-burning stove crackles in the corner.
Our first job is to choose our style: satchel, messenger or tote. I opt for the tote – an elegant design, in a stylish dark red leather with camel-coloured straps. To my untrained eye, it doesn't look unlike something by Hermès.
Gaynor's apprentice, Enya, unrolls a huge, vegetable-tanned Italian cowhide – cut from the shoulder, the second strongest part. Seeing the beginnings of my bag in its raw form is thrilling.
I carefully cut its outline to a stencil using a scalpel and ruler, followed by the side panels – gussets. The leather is robust but soft, and it yields after a couple of attempts. Next I dye the pale exposed edges using a small brush, then "burnish" them, rubbing them fast with a cotton cloth so that they seal and shine.
I cut lengths for the straps from a piece of tougher hide. I shave the edges smooth, slice off the ends so they're rounded, and punch holes and slits for the studs. There's a tool, most of them worn smooth with age, for every tiny job.
After lunch, it's time to practise our saddle-stitching: sewing both sides of a seam at once. I can't remember the last time I sewed anything, but hand-stitching is what stands Gaynor's leatherwork apart from mass-produced goods, she says. If anything about my bag is going to give away my amateur status, it's wonky stitches.
Source: www.theguardian.com
Share this Post