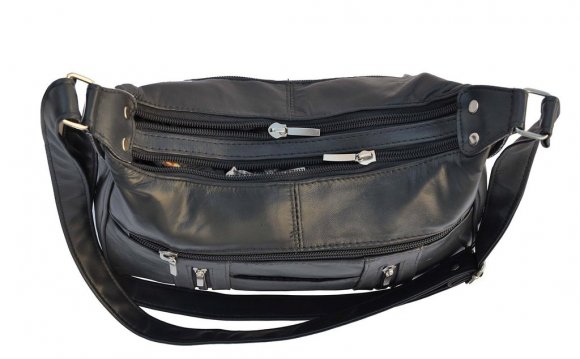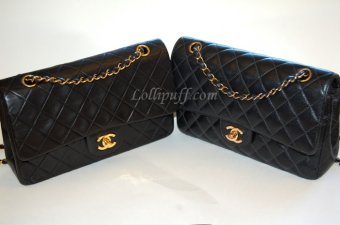 By Bebefuzz
The Chanel 2.55 purse commonly comes in two types of leathers: caviar and lambskin. The retail cost for either is about the same. Here we'll go over the differences between black lambskin vs. black caviar leather: how they age, maintenance, and look. We've taken two iconic Chanel bags and put them side to side.
The lambskin on the left is from 1995. The caviar on the right is from 2004.
In general, the caviar leather is much more sturdy than its lambskin counterpart. Although a few years ago, lambskin was more expensive than caviar due to its very smooth and soft finish. Which look do we prefer? Depending on who you ask, you'll get a different answer!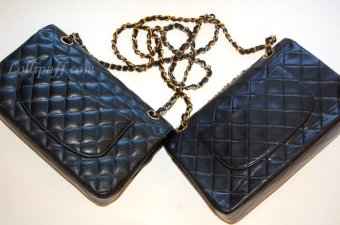 The lambskin rates higher for being very luxurious looking. The gleam from the black lambskin is quite dramatic and striking. But, trust us when we say either purses are dangerously beautiful!
For a day to day purse, the caviar rates higher due to its amazing ability to withstand abuse. Black lambskin is not fragile and is relatively easy to maintain due to its dark color.
To store a 2.55 Chanel, one must keep some tissue paper or other soft clean material in the body of the purse and set it on its bottom in a dry place out of the sunlight.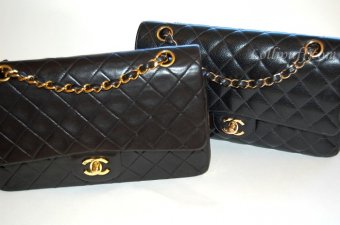 For lambskin, the chain should not rest too heavily on the bag, and a soft sheet of fabric should be placed between the flaps. All materials used for storage should not have color rub off.
The caviar bag's leather does not need to be conditioned. Contrary to popular belief, lambskin does not require conditioning either. This information was given to us by a Chanel specialist at the Chanel boutique! The shiny patina that you see on many older Chanel, both lambskin and caviar, is actually produced by wearing the bag over time!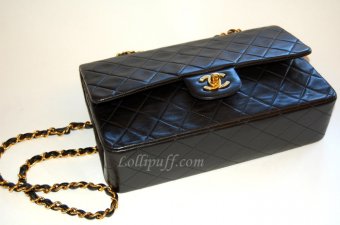 These bags age magnificently. The striking lambskin is 17 years old! With age, the puffy quilting on lambskin will most likely flatten somewhat, and some wrinkling may show when the bag is not filled. Although, the lambskin is more prone to scratches and scuffs, you can see that none of it is very significant given moderate care.
Caviar will maintain its puffy quilting throughout time if stored correctly. It's also harder to scratch and scuff. This makes it more ideal for an everyday purse.
If needed, either bag may be sent to a Chanel store for a full restoration for less than $300. Please keep in mind, neither bags in the photos have had to be repaired. This speaks to the impeccable quality of Chanel!
Source: www.lollipuff.com
Share this Post