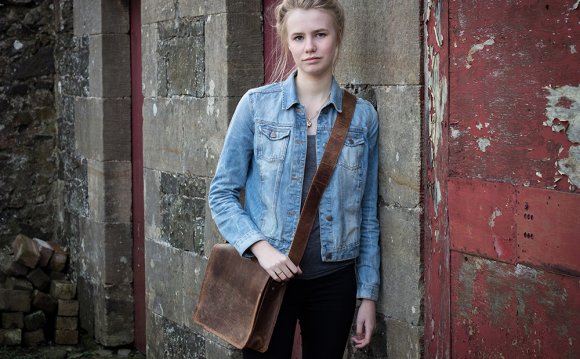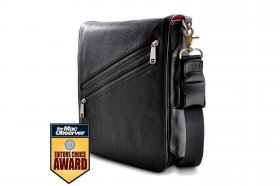 Has many tricks up its flap. You can wear it as a shoulder bag, cross-body bag or as a backpack. It also becomes your mobile desk anywhere, allowing you to use your iPad without holding it with your hands. You can work standing up with both hands free to type! The design is clean and functional, and the bag is beautifully made. Watch the video and look at additional photos. The blog post on the MacWorld/iWorld Expo has a short video showing the bag mechanics perfectly. You may also want to check out our Limited Edition Platforma G.
Platforma is a vertical (north-south) messenger bag for iPad or virtually any tablet and small notebooks, including MacBook Air 11". Allows for hands-free use of iPad.

It only takes a couple of seconds to turn the bag into a mobile desktop.
Tablet attaches to the back wall of the bag via a polycarbonate snap-on cover with four magnets. The snap-on iPad case is compatible with the Apple Smart Cover.
Magnetic interface covers work with iPad Air 1-2, iPad Pro 9.7", iPad 2, 3, 4. We have a limited number of snap-on covers for iPad Mini.
The MacObserver Editor's Choice Award winner at the MacWorld/iWorld 2013 in San Francisco!
High-end look and feel, premium quality.
Genuine full grain leather flap, gusset(sides), piping and details. Super strong and light high density nylon shell.
Bright red soft nylon lining.
Water resistant.
12" x 9" x 2.75" approximately when stretched.
Two diagonal quick access flap pockets with waterproof zippers.
Two front wall pockets with waterproof zippers.
One inside open pocket for an iPad, another tablet or a notebook.
One magazine pocket on the back wall.
High quality metal polished and plated custom hardware.
Reliable magnetic flap closure, that actually works - just drop the flap and it will snap closed - no fiddling with buckles.
Seat belt 1 1/2" strap with a special custom buckle.
One-hand-one-motion strap adjustment.
The messenger bag converts into a sling-type backpack in two seconds. Backpack mode is perfect for riding a motorcycle or a bicycle or running to catch that flight, when you do not want the bag to swing around.
The snap-on case also lets you attach your iPad to a fridge door - as an added benefit.
Patent pending.
A note about other tablets:
Please contact us. The interface plastic cover will need to be changed. We may be able to help you. We really care.
A note about the magnets:
We have done extensive testing, both with WiFi and cellular radio and found nothing alarming. We could not detect any problems in operation... Speed, reception, etc. were intact. The only drawback is the compass interference - and understandably so. GPS, 3G, WiFi, and everything else worked fine. Our credit cards were also perfectly fine after using the bags for many months. We continue to use the bags every single day.
However, if you are wearing a pacemaker, or another device sensitive to magnetic fields, please do not use the bag.
FAQ
I have seen the video of Platforma. How does the iPad stay on the back of the bag? When you buy Platforma, you also get the polycarbonate hard case (cover) that the iPad snaps into. This plastic case has four magnets on it. The back wall of the bag also has four magnets under its fabric. When placed on the back wall of the bag, the iPad clings to the bag. More...
Source: strotter.com
Share this Post